Foggy Glass Window Repair
Replace the glass - live the frame
Are your windows looking worn or foggy? We offer affordable top quality energy saving window glass replacement service, by keeping the existing window frame and replacing the glass insert.
Factory Certified glass
Most reliable warranty on a market
An exceptional service experience at an affordable price
Foggy Glass Window Repair Offered in
Illinois

Texas

Wisconsin

:
WOOD WINDOW REPAIR

Rotten wood replacement

Window frame repair

Sash sill brickmolding repair

Patio door repairs

Reglazing window

Window screens repair
GLASS REPLACEMENT

Replacement Insulated (double pane, triple pane) unit

Single pane glass replacement

Annealed, Low-e, Tempered glass

Patio door glass replacement

Store front & commercial glass

Custom shaped glass replacement
Our Awards
Over 500+ Review
Severe storm and tornado in Chicago suburbs brought significant damage to the houses in Naperville, Woodridge, Darien, Burr Ridge. We are always open to help people to restore, repair windows or replace glass if needed.
Read Latest News
Foggy Glass Window Repair Near Me
People Questions
Why windows are getting fogged up?

The main reason is the temperature and the moisture in the air. The other name of fogged window is condensation. The condensation can appear in between the glass pane (broken seal) or from inside or outside of the house. In case of broken seal the thermopane will have to be replaced! If the condensation on glass and you can wipe it off, in this situation you will need to reduce the humidity in your house by using dehumidifier.

I didn't have the condensation on my old windows? Why I am getting it now with new glass units?

Windows are mostly become drafty within years; the cracks allows excess moisture to escape outdoors. The new glass units or windows are better insulated, so the indoor humidity can't escape.

How much does it cost to fix foggy windows?

The cost of a seal repair for your windows will depend largely on what type of window repair you need, the size of the windows, how many windows you need to fix, what type of glass you have, and the frame type.

How do you fix fogged windows?

There is only 1 way to fix your foggy windows, which is glass replacement! Unfortunately, there are no other options that can resolve this type of problem. Before hiring someone be sure in high quality of glass unit to forget about this issue for another 10 or even more years.

Can windows be resealed?

Windows can't be resealed in proper way! They would not perform their main goal, so insulation and energy efficiency of windows would be lost. If you are looking for reliable and long term repair Argo Glass & Windows are happy to help replace that thermopane for you with high end glass units from trusted factory.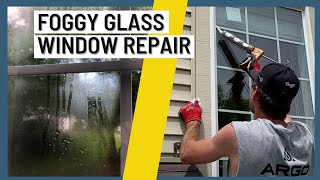 Foggy Glass Window Repair with Argo Glass and Windows
Foggy Glass Window Repair
The breakage of window seals can be caused by: heat excess, water exposure and old age. These 3 factors have direct connection how long your windows last. Moisture on your windows can lead for mold to build up. The foggy windows must be fixed in timely manner to prevent any danger to you and your family. The glass replacement is an affordable and economical option to return your windows crystal clear view. You can prevent your windows from having condensation by using high quality product and hire expertise to be confident in proper installation. On your behalf try to follow this simple tricks how to prolong the life of your windows:
Keep the air vents open
While cooking or running dishwasher use the ventilation
Clean the gutters on time to avoid over floating
Open windows to promote air circulation
Turn on exhaust fans in bathroom
As a high rated company, we are proud about our hard work and dedication. We carry mostly all variations of window glass units as well as grids. If you are looking for a glass replacement service you can count on us to get this job done in timely manner. For more information, please call us and get your free estimation.  Don't let foggy windows cloud your home's beauty. Call now!