Professional Services
Historic Window Restoration
Service
Historic Window Restoration
Historical buildings are being restored and protected to preserve cultural heritage for new generations. Many of them are still active; they have enterprises, shopping centers, offices, museums, educational, cultural and entertainment institutions, as well as citizens who have received such property by inheritance. Like any real estate, these premises require maintenance and regular repairs.
Historic Window Restoration company
Historic Window Restoration Offered in
Wisconsin,

Illinois,

North Carolina,

:
HARDWARE / MECHANISM REPAIR
Historic Window Restoration Near Me
People Questions
How do I fix historic windows?

Historic windows are in need of special attention to keep them in good condition throughout years, so it is very important to do all maintenance requirements. In case they do need repairs it has to be done by a professional that qualified for any restorations.

How much does window restoration cost?

The price on window restoration can be provided only after close inspection by a professional. Some windows are cheaper to restore and some more expensive. It all depends on the difficulty of the sash structure and how many sides are in bad shape.

Can old windows be restored?

Our company provides rotted wood sash restoration services. All rotten pieces will be removed and needed parts will be refabricated based on the prototype by a specialist with years of experience.

How do you remove old window glazing?

Before doing anything to the window it is very important to clean it up first, then by using special tools you can beggin removing old putty. Be very careful in process, because there is a high risk of breaking the glass or to damage the wood frame.

How can I make my old wood windows more energy efficient?

If you are not ready to invest money in full window replacement you need first have it inspected for any rotted wood signs, the rotten wood will have to be fixed. Then make sure to recaulk all windows and change the weather strips. As well you can install external storm windows for better energie efficiency.

How can you make an old wood window more energy efficient?

Storm windows are extra sets on the exterior part of the house. They provide extra protection to the primery installed home windows in case of damage. As well make sure that all joint from inside and outside caulked roperly. This rwo thing would help make your windows be more energie efficient.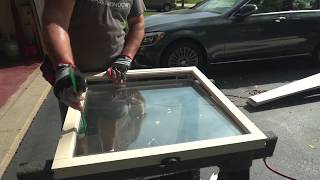 Wood window repair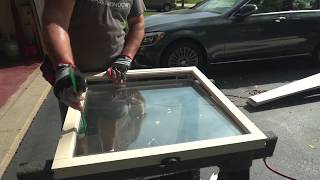 Wood window restoration
Historic Window Restoration
Nothing lasts forever, and even our stately buildings - architectural monuments wear out over time.
Over time, the windows installed in them, cease to perform the necessary functions - reliable protection from cold, wind and noise from the street. In order to restore all the necessary functions of the window, and at the same time to reproduce the former architectural style of the building, you need to use the restoration service from our company.
Window restoration is needed not only for architectural monuments, but with time and for all houses built before 1990. The windows installed during the construction of such houses not only ceased to protect against noise and cold, but also lost a decent appearance.
The problems of old windows are primarily in blowing through the entire perimeter of the window, in the failed fittings, peeling paint, both outside and inside, and in a battered and worn-out window frame. All these problems can be eliminated during the restoration of the window.
Restoration of wooden windows is a job that will require various professional tools to carry out all the restoration work carefully - grinding, painting, replacing fittings, gaskets, and so on.
Of course, not any window may be subject to restoration. It is necessary to examine the condition of your old window - check for the number of rotten parts in the frame, cracks and other defects. And depending on how badly the window is damaged, make decisions about the possibility of its restoration.
Our company offers the manufacture and installation of "historical windows" for the restoration and reconstruction of cultural heritage objects.
Our "historical windows" are made with all the features of the architectural style of the building and meet all the requirements and established standards. We officially received a license to carry out activities to preserve cultural heritage objects (historical and cultural monuments).
Each window is exclusive
We make "historical windows" by the individual order. Before starting our work, our specialists study in detail the object being restored, and the features of its architecture. Based on this, the manufacturing technology, the appropriate profile and materials are chosen. Then design the window and create an exclusive sketch. Only as a result of such painstaking preparatory work is it possible to recreate the window designs in their original form so that they correspond to the project of restoration work at the historical object.
The new window completely repeats the appearance of the former - the color, shape, light transmission, the type of wood, the shape and color of the fittings, and if it is, the sprites, gratings and much more.
Handmade windows
Most of the works in the production of «historical windows» masters of our company perform manually. All specialists are high-level professionals who have extensive experience in working with such objects.
Our workshops are equipped with professional machines and tools that help professionals do the job quickly and efficiently.
Materials and designs meet all requirements
As a material, we use a three-layer bar of pine and larch. Design - with one or two threads of glazing, separate with a wide window box. It consists of two parts of the valves, each of which can be installed separately.
We pay special attention to architectural locking accessories. We use various types of decorated fittings - handles, hinges, bolts, wraps, caps, which bring windows closer to the historical look.
Extensive experience with historical objects
You can view the completed orders for the restoration of windows in historic buildings in the gallery of our company. We know how to put in order even the oldest, dilapidated and unreliable construction.