Professional Services
Hurd Window Repair
Service
Hurd Window Repair
The Hurd window brand is well known to many property owners since the company has been a fairly long time in the window and doors market.
Hurd Window Repair company
Hurd Window Repair Offered in
Wisconsin,

Illinois,

Texas,

:
Hurd Window Repair Near Me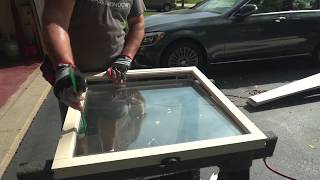 Wood window repair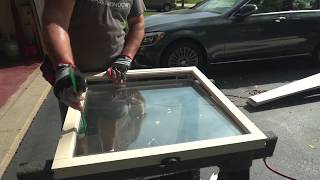 Wood window restoration
Hurd Window Repair
During this time, it managed to form a large number of clients and a fairly high responsible manufacturer reputation. But problems and malfunctions can happen with any window brand and Hurd here is no exception. Among a few particularly common problems, we would like to focus on those that, according to our company experts are encountered especially often, and the consequences from it in the long term are the most negative.
Seal failing in Hurd window and what need to do
We try to provide most helpful information for homeowners according to our experience though many of servicing years which we spent on window repair. So, the glass unit has a few glass sheets with spacer and sealed all around. If for some reason this sealer will be broken then glass become unprotected and nothing can prevent from moisture penetration inside window space. Usually, this point is not even noticeable because of its small size. Only by the passing time evidence of failure can be seen clearly. This happens due to seal installation in frame sash which is not easy accessible.
Very often dual insulated glass has a seal problem.
Depending on your window type it may look in a different way such as:
foggy and unclear glass;
condensate inside window insulated glass;
colored hue;
some extraneous spots.
This signs will tell you about seal malfunction and demand immediate attention.
In such case you can make the following steps:
Be completely sure that your window is clean enough. Use a damp rag to clean it from both sides. Try to get off all dirty spots from the glass surface.
If this spots or signs of fog will be still there don't start to panic but just call our company to get immediate professional help.
The Hurd window have good design construction and therefore even seal problem can't really quickly destroy it. So you have a time for your phone call.
If there are some worries about necessary whole window replacement then we can assure you that this is maybe not really your case. The failed seal does not necessarily mean your window now just piece of junk. We will replace for you a sash or if it is too late then quickly put a new insulated glass.
Usually, all Hurd window carry on some kind of warranty. This why before to start repair job we strongly advice to all our clients do careful checking their buying slips.
In any case, we are always ready to help you in all circumstances. Tell us about your Hurd window and be sure all things will come right!
Some other most common problems with Hurd window
Besides seal fault, there can be a few other common problems with this window.
Just give a look and maybe you will see one of yours:
condensation on the window, the formation of mold on the window, blowing window, poor window sound insulation;
cracks in the profile, strong smell of plastic, the profile yellowness;
problems with closing and opening the window;
improperly installed double-glazed window, large slots after window installation;
problems with window handle and high level of noise penetration into the house.
As you see it's almost impossible to solve out any of this window fault. So, don't waste your time and contact directly our company.
What to do when the warranty on Hurd window has already expired or does not cover your window faults
More often a serious window breakdown could have been prevented at the very beginning. For example, some of the sashes that touch the frame can eventually lead to serious window breakage, although the situation could be resolved by simple hardware adjusting. During the operation period under the warranty, any window company which is manufacture and install of window usually performs all necessary service maintenance. But often it happens that your window failure is not really covered by the company warranty obligations, and in this case, you are running at risk of being left alone with your problem. What can be done in this case?
There is no need to panic and get upset, we are the company that you need at the moment.
The quality of our works is very high, and the cost of services is very affordable for any homeowner. Just call us and we will not let you down!