Professional Glass Replacement company
515 Lindsborg Trail, Monroe, NC 28110
08:00 - 17:00

Monday
08:00 - 17:00

Tuesday
08:00 - 17:00

Wednesday
08:00 - 17:00

Thursday
08:00 - 17:00

Friday
09:00 - 14:00

Saturday
Closed

Closed

Sunday
Broken? Foggy? Condensation?
TOP - Quality glass at affordable prices! We Install, Repair and Replace
Other Servises
Need Glass Replacement?
Hire the repair man you can trust!
704-397-4039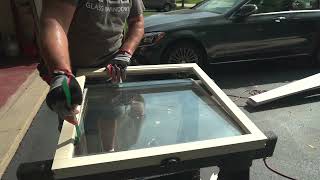 Glass Replacement in Monroe NC
Glass Replacement Near Me
Get a FREE Estimate
Our specialist will do a full newew of your windows.
We focus only on your needs!
Glass Replacement in Monroe
Glass is the main, but most fragile and vulnerable part of the window. Glass can break, crack or scratch. In addition, over time, for some reason, glass may cease to perform its heat-shielding functions. To eliminate such problems, as well as to improve the performance of the window, it is necessary to completely replace the damaged glass. Window glass replacement will help solve problems such as dysfunction of heat and sound insulation, as well as fogging or covering the glass with a layer of ice. Modern windows have a complex design, so it is rather problematic to make the glass replacement on your own. In order for the new glass to be qualitatively installed and delight you for a long time, it is better to turn to experienced specialists in Monroe, Wisconsin who know all the features of the window design, have experience in such work and have all the necessary devices.
Reasons why it is worth to get the window glass replacement service in Monroe, near me
Among the reasons that force us to change the glass structure in commercial and residential buildings are the following:
cracks and chips on the surface;
lack of sealing;
ingress of dust or dirt inside;
improper thermal insulation, insufficient heat level;
increased noise level;
fog on the glass with moisture on the sash.
Different cracks, ingress of moisture on the sash and the formation of condensation, which is named as fog, are the most common problems. In case you need to get the glass replacement service in Monroe, you can find the help in ARGO Glass & Windows company. We can make your house with double pane windows cozy again, while providing with professional service and obtainable price for every resident of Monroe. You can also fix all the broken components of double pane windows in order to improve the view of your commercial or residential properties.
Other useful services in Monroe, that you may find with window glass replacement service:
The best option for window glass replacement in Monroe
By making the glass replacement, homeowners, living in Monroe, will be able to protect the nervous system from intrusive noise, provide a comfortable temperature regime in their home and save a lot on heating bills. The main thing here is not to be mistaken with the choice of specialists. For those who need glass replacement in Monroe, ARGO Glass & Windows company provides such a service. We offer our clients the best ratio of quality and cost of glass replacement service. Employees of our company value the reputation of professionals and are interested in the result of their work.
Map of Monroe, North Carolina