Professional Services
Patio Sliding and French door repair
Service
Patio Sliding and French door repair
Why and When to Get Patio Sliding and French Door Repair
Doors – as much as windows – is your building's face (either of the commercial or private estate). They allow entering and exiting from a space, so they must function well – and look good too. Doors with glass (such as patio o French) can definitely make your insides brighter with the sunlight.
Patio Sliding and French door repair company
08:00 - 17:00

Monday
08:00 - 17:00

Tuesday
08:00 - 17:00

Wednesday
08:00 - 17:00

Thursday
08:00 - 17:00

Friday
08:00 - 14:00

Saturday
Open

Closed

Sunday
Patio Sliding and French door repair Offered in
Wisconsin,

Illinois,

North Carolina,

:
WOOD WINDOW REPAIR

Sash sill brickmolding repair

Re-caulking, caulking service

Historic Window Restoration
GLASS REPLACEMENT

Replacement Insulated (double pane, triple pane) unit

Custom shaped glass replacement

Store front & commercial glass

Patio door glass replacement

Annealed, Low-e, Tempered glass

Single pane glass replacement
HARDWARE / MECHANISM REPAIR

Window operators and accessories

Window and door adjustment

Support balancers & mechanism
Patio Sliding and French door repair Near Me
People Questions
How much does it cost to repair sliding glass door?

Our goal is to save your investments in repairing as much as possible. The cost of any repairs will depend on many details such as difficulties, materials in case of glass replacement the size of it. Just give us a call and schedule a free estimate to get a fixed quote!

How do you fix a sliding patio door that won't slide?

Patio/sliding door becomes useless when it does not slide easily. Get it to be inspected by a professional. Based on a problem that is not allowing the door work properly, the technicians will provide some options that would resolve the issue.

Why is my sliding door so hard to open?

Within time the patio door might slide harder than usual. Sometimes with this problem they needed to be adjusted or lubricated, but it can be caused by worn hardware as well.

Can you replace 1 side of sliding glass door?

The glass can be replaced only on 1 side of the sliding or patio door, whether on stationary or movable side.

Are sliding glass door rollers universal?

Rollers naturally wear out over time, causing the door to stick or jump as you slide. Unfortunately not all sliding or patio doors have universal rollers. Make sure to have it inspected by professional before ordering any parts yourself.

What is the best lubricant for sliding glass doors?

A petroleum based lubricant is preferred, but you can use silicone based lubricant. Just spray the lubricant on wheels and tracks but don't wipe it off.

Why is my patio door so hard to open?

Within time the sliding door might slide harder than usually. Sometimes with this problem they needed to be adjusted or lubricated, but it can be caused by worn hardware as well.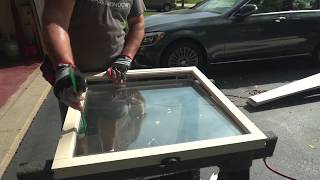 Wood window repair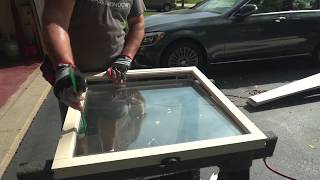 Wood window restoration
Patio Sliding and French door repair
With clean, right-installed panes they also make an interior of your building appear to be more spacious. But there are problems that present in some properties – such as glass (or a whole unit) breaking. This makes your home or workplace worse in terms of appearance and functionality.
If you are not familiar with either French or patio doors – let us tell you what it is. Both of those units are like regular ones, but they have something like windows in them – those are basically big window frames with panes, but with a function of allowing you to enter and exit from a space. The difference between them is:
French doors open aside. They actually also do not necessary have glass panes in them.
Patio doors are an alternative to French – they have two sashes with glass that can slide in opposite sides. They are also a less expensive option.
We truly believe that doors and windows are an important part of a building. That means owners who do not maintain these units so they work and look good are to be considered careless in terms of property. The main argument for this is decreased effectiveness of those doors – broken or neglected. Door repair is needed when there are some functional or visual defects. Namely, paint cracks and glass breakage.
About Patio Sliding and French Door Repair
Door repair includes lots of possible work types – it all depends on an existing problem. If you do not have enough expertise, it's always better to ask a professional company to help.
Benefits of Patio Sliding and French Door Repair
Repair of the patio and French doors can put aside replacing them. With that, they serve more years and demand less work and money spending.
Ordering Patio Sliding and French Door Repair
If you would like to get help from a professional company – look at our related statement that we advertise heavily:
Beforehand to estimate the cost of their restoration on a turn-key basis - it will definately be cheaper, faster and less truoublesome than installation of new windows.
And this is true for patio and French doors too – better repair an existing one that installs new.
Choosing a Company to Do Patio Sliding and French Door Repair
When choosing an ideal company to match your needs, check their:
services;
portfolio;
user feedback;
"About Us" text;
price of work.
Note that high prices often mean more value.
Benefits of Patio Sliding and French Door Repair in Argo
Our customers like and choose us for a variety of reasons:
quality of work;
reasonable pricing;
high expertise in glass units' repair.
However, our main benefit is our offer of
10-year seal failure guarantee
We are glad to work for people of Illinois and Wisconsin!
Argo's Other Services
In Argo, we mostly specialize in window work. Check if you need some of them:
We can help you with maintaining sashes, frames, and window-sills, and repair them;
We repair insulated glass cracks;
And we are glad to help you with systems that need replacement too!