Professional Services
Pella Window Repair
Service
Pella Window Repair
Pellа window broken?

We will fix!
Pella Windows stands out for its superior quality offerings, yet even the finest windows might require repairs over time. Rather than substituting the whole window, frequently, only a defective component needs replacement to reinstate its functionality.
Our specialized services for Pella repairs encompass component replacements, comprehensive sash replacements, wood mending, and rectifying broken Pella window glasses. Upholding an unwavering dedication to excellence, ARGO Glass & Windows is esteemed as a frontrunner in Pella repair solutions, consistently delivering impeccable service, ensuring client contentment, and maintaining timely execution of tasks.
Pella Window Repair company
Pella Window Repair Offered in
Wisconsin,

Illinois,

Texas,

:
Pella Window Repair Near Me
People Questions
Can Pella windows be repaired?

Rotted wood frames are a common problem on pella windows as well as broken seal and worn hardware. Our company provides repair solutions for any of those problems and all brand name windows.

How much does it cost to replace a Pella window?

In general window replacement is an expensive option. If you are looking to save on your budget the repair would be the best solution. With Argo you can save your money and to keep the original look of your window.

Can Pella windows be repaired instead of replaced?

Pella is a well known brand name for windows. Sometimes even the most popular and quality windows may fail. Most Windows companies will try to say it is not fixable and would say you need to replace the entire window. No matter what brand name window this is, mostly all windows can be fixed.

Can casement Pella windows be repaired?

Pella windows are considered the best windows on the market, but anyway within years they can worn out or start to rot without proper maintenance. If you have casement, double hung, sliding, awning or any other type of windows they all can be fixed.

Can you just replace Pella windows sash?

You can replace just a window sash, but still it can be a more expensive option than to replace just a glass or restore a wooden sash.

Are Pella windows wood?

Not necessarily they are wooden. They also make fiberglass and vinyl windows. Based on your needs you can choose the perfect fit for your house.

How do I know if I have Pella windows?

All brand name windows have their serial number in the corners on the glass unit. This laser mark should have a number and using this number you can try to identify what brand windows you have.

How do you clean Pella awning windows?

Not only Pella but any other brand windows can be cleaned from interior and exterior. Clean frame surface with warm, soapy water and then rinse properly. Glass units can be cleaned with window cleaning solution or mixture of water and vinegar.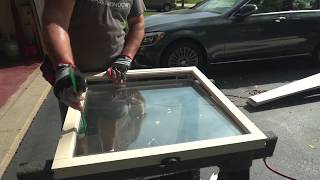 Wood window repair
Pella Window Repair
Pella Window products are great for any room, and the cost attracts hundreds of thousands of buyers. If you just want to acquire new home window apertures of the famous company, or you have already installed them for a long time, invite our specialists for high-quality installation or repair of window.
Pella window and doors are known to provide energy saving solutions to those obscene power bills that manage to make your heart skip a beat every time. They are known to be very energy efficient, saving you hundreds of dollars every year in power bills.
Below is a review on Pella replacement window.
The company has been around for more than 70 years, which speaks volumes about their experience and customer loyalty.
The window are undeniable great looking and provides more light than most.
They have window that eliminate "side air infiltration" through the sides of the sash and you do not worry about heat loss. Not many other brands can claim this.
They offer a guarantee not offered by many.
It installs easier.
Pella is not the cheapest window around time. There are other brands like Lincoln, Marvin and Anderson that are just as competitive.
You do not necessarily need to buy the Pella window from their stores. I mean you can get them from other places as well.
Often we ignore the repair of window and doors in our house or apartment. It is much more important to fix the current roof or make a crack in the wall. But what about the constant heat loss due to the sagging home window or because of the impressive crack on the glass? You simply can't imagine how much money you overpay in a month, because you forget to tidy up the window and doorways.
The window and doors of our homes serve multiple purposes. They keep our homes well-ventilated, as well as protected. The final purpose, and this may perhaps be to your surprise, is that it helps you save a considerable amount of money.
Popular Pella window problems
The Pella window also didn't come without different complaints. Some consumers notice kind of problem with the design concerning the locking window device. Especially it is noticeable when window have exclusively big sizes. So, some client's claim that they are can't close Pella window densely, when it hardly pressed towards vertical bearing window.
Other problem consists in the raised product stains. Consumers report that spots give emergence of mustiness in window.
We will help you to bring the appearance of the house in full order with the help of timely and inexpensive repair of Pella window. Start paying less now. Savings on window will be much more expensive in the heating season. Do you want to work only for heating, marveling at the bills for electricity, gas and heating? We will save you from all these and other problems after the first call. Repair or replacement of home window is carried out in a short time and inexpensively.
Our specialists will be able to:
Carry out the repair of the frame,
Replace the double-glazed window,
Restore the appearance of window by painting,
Completely restore the window,
To put a new product in case of impossibility of repair,
Replace accessories and much more.
These include the quality and durability as well as the cost of each option; not to mention the ease of maintenance of the same. All of these factors can, and must, be ascertained with a little market research.
At Argo window repair service, we choose to repair your window and doors because no other company has such a vast array of services we offer, with quality built into every product.
Our staff members have extensive experience with Pella's products. They are uniquely qualified to answer your questions — from what type of window will complement the architecture of your home, to laying out the nearly infinite options, such as wood species, divided lites, exterior finish, interior color, hardware finishes, lock options and more. They will help you select the right products and provide a quick turn-around time on quotes.