Professional Services
Re-caulking, caulking service
Service
Re-caulking, caulking service
Why and When to Get a Re-caulking, Caulking Service
Caulk is a waterproof sealing agent that is used for filling empty gaps between your plumbing, ventilation, window and other structures devices at home. Those home appliances include showers, sinks, and bathtubs, door and window frames.
Re-caulking, caulking service company
Re-caulking, caulking service Offered in
Wisconsin,

Illinois,

North Carolina,

:
HARDWARE / MECHANISM REPAIR
Re-caulking, caulking service Near Me
People Questions
Should windows be caulked?

All windows have to be caulked to avoid any moisture or water getting into frame. If windows are not caulked it might create severe damages. It is highly recommended to recaulk everything every 5 years or so.

How much does window caulking cost?

The cost will depend on the window size, the number of windows and technicians performing the job. Caulking window in generall easy job, but it is important to apply it correctly or it will not last long and it will need to be rodene again.

How often should windows be caulked?

The caulking around windows can be redone every 5 years or so, if it has been applied correctly otherwise if you see any cracked caulking or it started to peel off it is highly recommended to do caulking in earliest convenience to avoid any water getting into the frame.

Can you caulk windows from the inside?

Windows can be caulked from inside or outside, basically all joints required to be caulked for weatherization and insulation.

Where do you caulk around windows?

Make sure to caulk all joints in the window and where the joint meets the frame and actual wall. This would help to prevent any air or water leakage through the frame, it will provide better wetheresation.

Can you caulk over old caulk?

It is not necessary to remove all caulking before applying a new one. Just make sure the surface is clean and not oily. In this case the new caulk just will not stick properly and will fall off soon.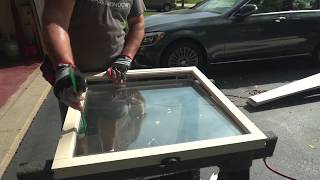 Wood window repair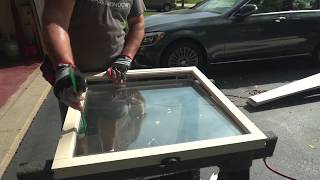 Wood window restoration
Re-caulking, caulking service
Caulk is a necessary aspect of any house for many reasons, main of them being its purpose. It is needed to seal areas from water leaks – keep safe things that need to be dry.
Unfortunately, caulk tends to wear and tear over time – not to mention it can be damaged by a lot of things. With it is being worn down, the house becomes a risk of damage – all your home appliances can break. More than that – caulk can be applied in a wrong way – than house products like ventilation, plumbing, windows, and doors are considered installed improperly.
There are several situations when you need to get a caulking or re-caulking service:
even a right-installed caulk is damaged (this happens because of improper scrubbing of it or an incorrect use of squeegee);
there are paths from caulk damage that allow mold to grow in open substructures;
cracked caulking;
mold or mildew traces;
areas of formed leaks;
gaps between structures are visible (especially when dirt accumulates there);
discolored and dirty edges around bathtubs and other items;
there was no caulking applied in a first place.
These situations are the reason to get a re-caulking or just caulking at your home.
About a Re-caulking, Caulking Service
For Illinois and Wisconsin states, Argo provides caulking and re-caulking services to lay a new, clean and fresh seal. It helps to protect your belongings from situations described above – and their consequences. To always have your furniture, windows and other items that need to be sealed in a perfect working condition, do re-caulking every year. Old sealing is a real problem that can cause dirt accumulation which leads to harmful situations with expensive repair rituals.
This is true for brand new homes too – when you just move in, caulking starts to settle and gets different cracks and breaks in it. When a service is performed – watch out for dangerous signs listed above to know if you may need to get re-caulking earlier than after a year.
Ordering a Re-caulking, Caulking Service
When ordering a sealing service, some questions about it may pop up:
Our polite staff will always consult you professionally and perform it's work on time
Choosing a Company to Do a Re-caulking, Caulking Service
To choose a good company, look at their:
services;
portfolio;
user feedback;
"About us" text;
prices for work.
Remember that higher price often means more value.
Benefits of a Re-caulking, Caulking Service in Argo
We, Argo, offer you a row of benefits with our caulking services:
Routinely replacing caulk is a way to prevent issues with health (caused by mold) and furniture.
Re-caulking now can save your money on possible expensive repairs later.
Sealing improves looks of windows, bathtubs etc.
Argo's Other Windows Services
Our main profile is the restoration of windows and glass.
With that, we are glad to offer you our other services. We specialize in lots of types of window works: