Professional Services
Repair of storm and screen windows
Service
Repair of storm and screen windows
Why and When to Get Repair of Storm and Screen Windows – Reasons, Benefits
Windows are an important part of aesthetics and functionality of a house. Wide, clean glass creates an impression of a bigger space, lets more sunlight in and – if they have proper sealing and are in perfect condition – can decrease your bills' cost at any season of a year.
Repair of storm and screen windows company
Repair of storm and screen windows Offered in
Wisconsin,

Illinois,

North Carolina,

:
HARDWARE / MECHANISM REPAIR
Repair of storm and screen windows Near Me
People Questions
Can storm windows be repaired?

"There are four main types of storm windows: two-track ,two-track slider, Triple-track and Picture storm windows. Each designed to fit different configurations in your home. No matter what configuration you have, as long as it's made with glass we can fix it. Some storm windows are made with plastic sheets rather than glass, and those we are unable to repair."

How do you fix a storm glass window?

Fixing the storm window glass depends on the type of frame you have. First the window will have to be taken apart and removing all broken pieces of glass. Some of the frames may require a bit more work then standart kinds.

How much does it cost to replace a storm window?

The cost to replace a storm window will vary based on the type of storm window, material it is made of wood, aluminum or vinyl and size. The most common and cheapest is a two track double hung white, aluminum storm window. If you are looking for another type or color the price will go up.

Do interior storm windows work?

Storm windows are extra sets on the exterior part of the house. It is an inexpensive alternative to full window replacement, that helps to save on utility bills. They provide extra protection to the primery installed home windows in case of damage. It is cheaper to replace glass on a storm window than on a regular one.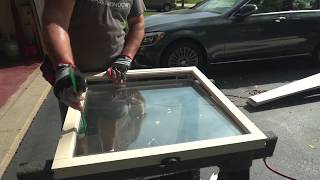 Wood window repair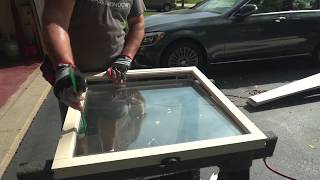 Wood window restoration
Repair of storm and screen windows
Windows' technologies elevated while past decades – now more people actually understand that broken storm and screen windows bring some problems. Bad aesthetics is the least problem in this case.
Broken panes are creating a metaphorical hole in your finances, and a literal – in your windows. Breakages leave you with overheating in summer, drafts in winter and consequences of storms when they happen! Glass tends to wear and tear, to break – all of this reduces comfort, security and functionality levels of a home or workplace. This can happen for a lot of reasons – glass units do crack under an influence of projectiles, temperature levels jump, misusing or detractors' activities to name a few.
There are numerous situations when you need to consider storm or screen window replacement:
your bill costs seemingly increased for no reason (integrity of a pane might be broken);
you started feeling drafts or experiencing an uncomfortable temperature (there might be a crack somewhere in panes);
there are obvious defects of glass units that affect both energy-efficiency and aesthetics of your windows (moisture in between of panes included);
specifically – storm and wind start to annoy you while you are indoors.
Needless to say, benefits of storm or screen window replacement consist of not having problems listed above.
About Repair of Storm and Screen Windows
Storm and screen windows repair is pretty easy – yet it is still better to be done by professionals (for this, contact Argo window service in you live in Illinois or Wisconsin). In general, the process requires taking off an old window shield, repair of it and placing it back. To do this you need to have special skills and equipment.
Ordering Repair of Storm and Screen Windows
Ordering storm or screen windows replacement is a salvation act for any problems with these types of glass. But if you are thinking of a whole window replacement instead of just glass – keep in mind that:
Beforehand to estimate the cost of their restoration on a turn-key basis – it will definitely be cheaper, faster and less troublesome than an installation of new windows.
Choosing a Company to Do Repair of Storm and Screen Windows
To choose a good company, look at their:
services;
portfolio;
user feedback;
"About us" text;
prices for work.
Remember that higher price often means more value.
Benefits of Repair of Storm and Screen Windows in Argo
If you live in the Wisconsin or Illinois – welcome to Argo service! We offer a row of benefits:
save 50 to 70% in comparison to installing new windows;
make your home more energy-efficient and good-looking;
fix and prevent fogging and other problems with glass with new quality panes.
However, the main benefit is:
10-year seal failure guarantee
Argo's Other Windows Services
We specialize in lots of window services: