Professional Services
Repair of Window Equipment and Balancer
Service
Repair of Window Equipment and Balancer
Why and When to Get Repair of Window Equipment and a Balancer
We believe that windows are a face of your building – either it is a home or a workplace. They are easily one of the most important parts of it since they carry aesthetic and a lot of functional purposes.
Repair of Window Equipment and Balancer company
Repair of Window Equipment and Balancer Offered in
Wisconsin,

Illinois,

North Carolina,

:
HARDWARE / MECHANISM REPAIR
Repair of Window Equipment and Balancer Near Me
People Questions
Can home windows be repaired?

Almost all windows can be repaired to look or operate as new. If you are faced with broken glass, hard to open or close the window, cracked sill, deteriorated wood sash, broken seal, condensation in between panes, window doesn't stay up, broken crank you can simply repair them instead of replacing them.

What can I use to cover a broken window?

You can cover the broken window with thick clear plastic (several layers preferred), cut to size with scissors. If you don't have plastic, a heavy duty trash bag can be used as well. Staple or tape the plastic into place. The other option is to board it up with plywood.

How do you fix window mesh?

If your window screen has ripped or teared the mesh can be replaced in the existing frame, so there is no need to purchase a full new screen.

How do you fix window balances?

If the window balances are broken it is not possible to fix them anymore, they will have to be replaced with new ones. This is a fast procedure but requires experience, so it is important to hire an expert to order the correct balancer and then do the replacement for you to avoid any damages to the window.

What is a window balancer?

A window balance is hidden in the frame of the window. It is used only for double hung or single hung windows and assists you with the weight of the sash as you open or close the window. They hold the top sash close white it is not in use of double hung windows.

How do you fix a window balance spring?

Double hung or single hung use spring balances to help you raise or lower the window sash. When you experience difficulty raising the sash it might mean that one or both of your braces are broken and replacement of balances are required to return the window its proper functionality.

How do you lubricate a spiral balance?

All types of windows need regular lubrication to keep them operating properly and extend their life time. Before using any lubrication, first it has to be cleaned from grease and old dirt from the spirals. Spray with lubricant WD-40 until everything is working smoothly.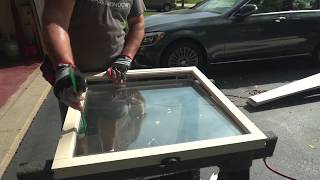 Wood window repair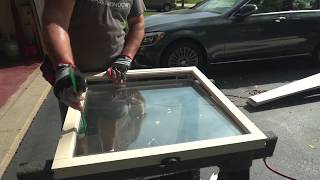 Wood window restoration
Repair of Window Equipment and Balancer
Big working windows can save your money on artificial lightning, heating in winter and cooling in summer. Clean glass in them creates a beautiful look from outside and impression of a bigger space inside.
Yet they can have breakages too. Not enough maintenance, wearing and tearing, bad initial placement and so on – all of this leads to different problems. One of them is a breakage of windows' inner technical system – balancer or equipment inside a frame. Signs of these problems are that windows are hard to open and close – or it is even impossible. Exact reasons for these types of problems are an imbalance in windows' frames, breakage of handles or metal joints and clips, improper construction of sashes and so on.
To solve this kind of problems, consider repairing your windows. With broken window equipment or balancer, it includes fixing or replacing them – yet, not a reinstallment of a whole system.
About Repair of Window Equipment and a Balancer
The process of window balancer and equipment repair looks like this:
After buying a new balancer, it's time to start a repair – take out each window clip and pop their bottoms with flat screwdrivers.
Then it's time to raise a window sash up – this allows clips to go off. Then push it either left or right and tilt inwards to remove.
Remove an old window balancer by a firm press down on it. Take out a top part, lift a sash up to release a tension and remove a broken balancer.
When equipment is installed, you are ready to place a sash back. To do so, press it into one side through a bottom attachment, and press another side into a frame. That's it!
Replacement and repair of other equipment are done analogically. If it is a little challenging for you – order a commercial company service. This type of work won't cost much at all and can be done in few minutes.
Ordering Repair of Window Equipment and a Balancer
Without decent expertize – it's better to outsource a work to professionals. And remember:
Beforehand to estimate the cost of their restoration on a turn-key basis – it will definately be cheaper, faster and less truoublesome than installation of new windows.
Choosing a Company to Do Repair of Window Equipment and a Balancer
To choose a good company, look at their:
services;
portfolio;
user feedback;
"About us" text;
prices for work.
Note: higher price often means more value.
Benefits of Repair of Window Equipment and a Balancer in Argo
For people who live in Wisconsin or Illinois – welcome to argo window repair and replacement service! People trust us because of our benefits:
save 50 to 70% in comparison to installing new windows;
make your home more energy-efficient and good-looking;
fix and prevent fogging and other problems with glass with new quality panes.
However, our main positive trait is:
10-year seal failure guarantee
argo's Other Window Services
Window job is our main work profile. See what else we can offer you – maybe you will need it now or soon:
Repair of windows made of wood;
Repair of windows with insulated glass;
Moisture disposal.