Professional Services
Window Glass replacement
Service
Window Glass replacement
About the Problems with Windows
Thinking of "glass replacement near me", consider replacing you old one-paned windows with the two-paned. Double glass price is not high, but they give you a lot of benefits – check them out.
Window Glass replacement company
Window Glass replacement Offered in
Wisconsin,

Illinois,

North Carolina,

:
HARDWARE / MECHANISM REPAIR
Window Glass replacement Near Me
People Questions
How much does it cost to replace glass in a window?

The glass replacement cost depends on the type of glass and how big units are. Quality will have an impact on IGU price. You can get a rough price over the phone by providing some close dimensions and knowing if the window is wooden or vinyl.

Can I just replace the glass in my windows?

Almost on all window brands and types it is possible to replace glass in. There are some exceptions specifically when windows can't be taken apart. This will have to be inspected by a professional.

Is it cheaper to replace glass in a window?

Yes it is definitely cheaper than replacing the entire window. You can always get an idea about prices by calling our office and providing some rough measurements of glass pane that need to be replaced.

Can I replace double pane window glass?

Yes the double panes or triple panes are replaceble.It is tricky to do it yourself. The glass is very fragile material and in process it can be cracked, damaged or scratched, so it is highly recommended to be done by a professional.

Can broken window glass be repaired?

The broken glass window can't be repaired, it can be replaced in the existing sash/frame, so you don't have to replace the entire window. This service would save your budget and the window will be like new again!

Can you reseal a double pane window?

It is not possible to reseal the double or triple window pane! The pane of glass will have to be replaced. Trying to reseal it there is a high risk of breaking the glass and the unit will not be energy efficient aymore!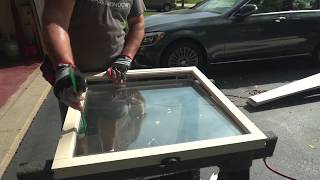 Wood window repair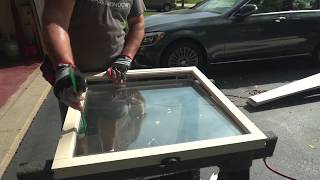 Wood window restoration
Window Glass replacement
Window Glass Replacement – Typical Problems with Windows
Windows are one of the most important things which make the house a home. Glass lets the light to go in and for us to see what is happening outdoors, but keep the wind, cold and environmental dirt out of our living place. And when windows need the replacement for some reason – you need to solve the problem as fast as possible, otherwise, it will keep impacting your home's appearance – making it worse-looking and much less energy-efficient.
There are few possible ways windows can spoil:
Conventional panes of glass tend to compromise over time – they will fail to prevent the cold from outside in winter, and seal the warmth in summer to get into the house;
Wood – especially not covered with protective agents – can rot, and do it over a short time if the climate is wet;
Double-paned glass windows happen to collect the moisture between the layers due to a small hole in there;
Gaps in frames, that make the heat go out, and the cold – in, due to temperature compensation in the environment;
Double-paned windows can get cracked easily because of the mechanical damage;
The frame of the window can get deformed;
The glass window can become foggy;
There can be difficulties with opening or close the frame of the window;
Cosmetic frame problem – paint can fade or peel off.
How and Why to Do the Window Replacement, Benefits of this procedure
One of the biggest benefits of window replacement is making the house more energy-efficient. You save money on less heating when it's cold, and less cooling when it's warm. Windows with one pane and wooden frame are such an outdated technology comparing to custom window panes.
The second benefit – your home can actually become the much safer place. The dangers of old glass windows are demonstrated, firstly, in the insects finding their way in your house through the small cracks of panes near to the frame. With the glass replacement to a newer, you can also ensure that you install more thick ones, which are actually capable of protecting you from weather, different projectiles and even criminals' actions.
Other reasons to change a window glass are corresponding with the typical problems listed above. As you can see, there are a lot of benefits.
Ordering a Window Glass Replacement Service
We pointed out a few benefits that may have made you want to order a window glass replacement. When typing "glass replacement near me" in the browser, make sure that you do some research, comparing and picking the best service.
When thinking of the glass replacement
Beforehand to estimate the cost of their restoration on a turn-key basis - it will definately be cheaper, faster and less truoublesome than installation of new windows.
Ordering Window Glass Replacement in Argo
If you live in the USA, in Wisconsin or Illinois states, consider Argo to do your windows services. With us, of course, you get all the benefits of the window works:
saving 50-70% compared to a new glass installment;
insulation "R" level growth by 71%;
lowering the heating and cooling bills price;
correcting problems with moisture and many more of typical problems solving.
However, our main benefit for customers is:
10-year seal failure guarantee
Our other window services
Apart from glass and frame replacement, you might need our related services. Check it out:
To maintain your new windows, consider our service of repairing the seal, getting rid of the moisture and defogging;
To take care, apply for window sash, frame and sill repair;
And if the window cracks – contact us for insulated glass replacement or repair.