Window Reglazing and Bead Replacement
Why and When to Get Window Reglazing and Bead Replacement
Windows are one of the most necessary parts of any building – home or job. Good glass system with clean, transparent big panes improves looks and functionality, adds more comfort to living or working. They make space look bigger, helps you to save money on artificial lightning.
Window Reglazing and Bead Replacement Offered in
Illinois

Texas

Wisconsin

:
WOOD WINDOW REPAIR

Rotten wood replacement

Window frame repair

Sash sill brickmolding repair

Patio door repairs

Reglazing window

Window screens repair
GLASS REPLACEMENT

Replacement Insulated (double pane, triple pane) unit

Single pane glass replacement

Annealed, Low-e, Tempered glass

Patio door glass replacement

Store front & commercial glass

Custom shaped glass replacement
Our Awards
Over 500+ Review
Are your windows foggy? It means there is a broken seal! But there is no need to worry, you don't have to replace the window, you can just replace the glass! Call ARGO GLASS & WINDOWS to schedule a free estimate
Read Latest News
Fast, honest, efficient and professional. Great job!
I was very happy with Argo. When they came out to consult, their tech Stan was on time and thorough, but didn't go for any high pressure sales. He just presented the info we needed and let us make a decision in our own time. We had two double paned windows replaced by Den. He was on time and they were in and out of the house in under an hour. The windows look great and are indistinguishable from what we had unless you get really close up and see they are a higher quality. Great job overall and very happy with their work.
Den replaced a window which had fogged and deteriorated with age. He was very professional, handling everything with care and cleaning up when finished. I would recommend their work.
I needed a repair to a window that was stuck and I could no longer open. Argo was quite accommodating and scheduled the appt promptly. The morning of my appointed time I received a text message stating he was on his way. Showed up promptly at appointed time and was quite pleasant and went right to work fixing the issue along with a recommendation. Cost was extremely affordable and much les than I thought it would be. I highly recommend Argo Glass & Windows!
Argo replaced all wood on five windows. The finished product looked as good as new. The matching stain was perfect. The technicians were professional and cleaned everything before leaving. I recommend Argo to anyone needing windows repaired. Sharon Munson Milwaukee
From scheduling an appointment to the end repair, they delivered with no disappointments. Extremely professional! Dan was our technician and he did a fantastic job.
Had a large tempered glass window with a rotted out frame. Home depot quoted me $2,400.00 to replace it .Argo glass quoted me $500.00 to fix it. Argo did the job in about 6 hrs. They removed the window, rebuild the damaged frame, reinstalled the window, stained the wood to match beautifully. Cleaned up everything. The carpentry craftsmanship of Max the worker was excellent. Argo exceeded my expectations. This company really knows what they are doing.
Read More Review
Window Reglazing and Bead Replacement Near Me
People Questions
What does it mean to Reglaze a window?

The old type windows with single glazing might require windows to be reglazed over time. Reglazing is a process of removing old dry, cracked putty and applying new one to secure the glass in the frame and weatherproof it.

Can fogged windows be fixed?

Thermopanes can become fogged up or might have moisture in between two panes, this means that seal has been broken. Most experts say that it can't be fixed and it will require the glass pane to be replaced.

Can I use caulk instead of window glazing?

Single pane glass units must be weatherproofed and sealed into window frames with glazing putty. The silicone caulk can be used for this purpose as wel, but it is not recommended. Caulk and window putty very different products.

What is a window bead?

The glazing bead is internal or externall vinyl, aluminum or wooden strip along your window that help blockout drafts and secure the glass pane within the frame. All old type of the windows have glazing putty instead gleazing beads.

Can you remove window grids?

Grids, muntins or muntin bars are metal or wooden strips separating or holding window panes. The grills can't be removed, if you try so the thermopane will be ruined, it will not be insulated anymore and there is a high risk of breaking the glass.

Can you replace a single pane of glass in a double pane window?

It is not recommended to replace just one pane in a double glazed unit. If you do so the unit will lose the main purpose of its energy efficiency and there is a high risk of breaking it as well. It is much easier just to get an insulated unit to be replaced by professionals. The glass replacement service is a budget friendly and best solution in this case.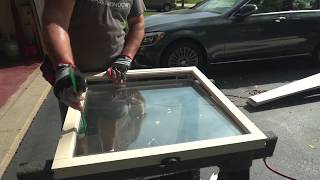 Window Reglazing and Bead Replacement
Trusted Window Repair Company
We always aim for the best possible Window Repair service and hundreds of positive customer reviews can confirm our hard and professional work.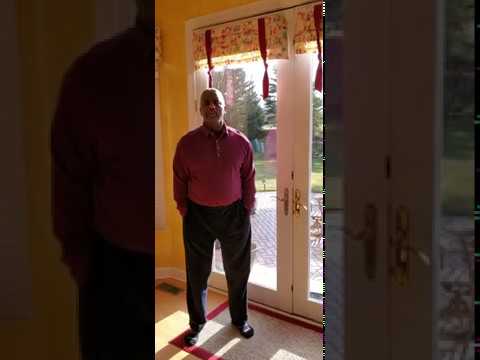 Patio Door Glass Replacement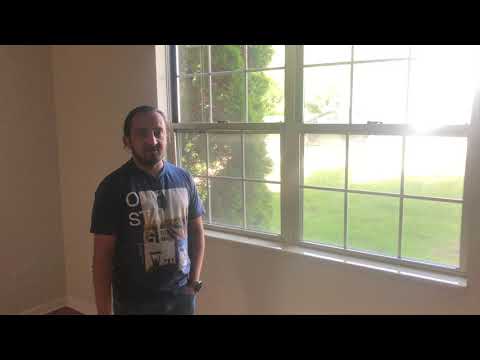 Vinyl Window Repair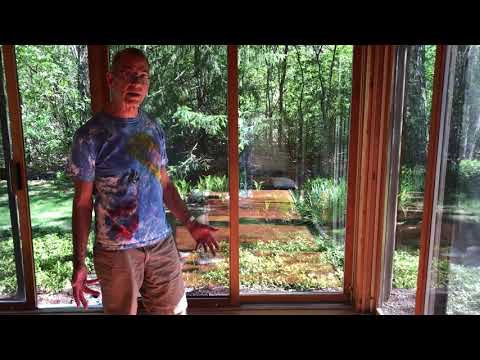 Sun Room Windows Repair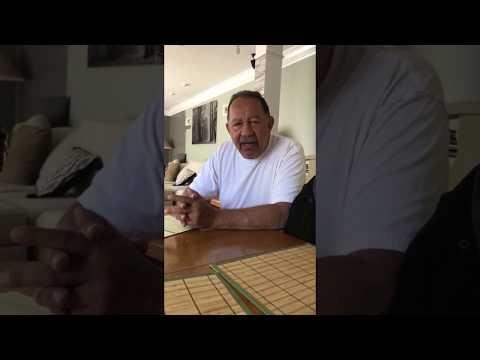 Window Crank Mechanism Replacement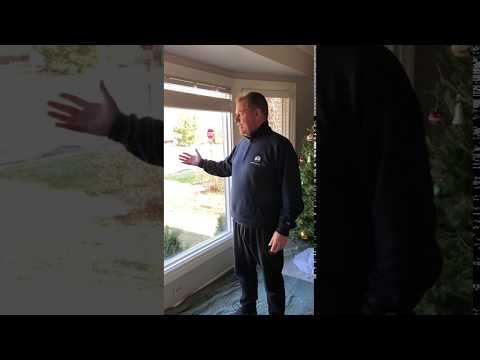 Home Window Glass Replacement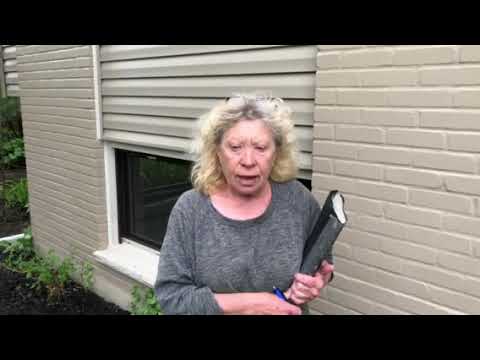 Glass Replacement
100% Of Your Satisfaction
Same Day Appointment
High Quality Materials
Best Window Repair Service Practices
Nice, Professional And Knowledgeable Technicians
Window Reglazing and Bead Replacement
Windows in perfect condition prevent drafts and big bills for heating in winter, and stuffiness summer – as well as that space requires less conditioning.
Unfortunately, windows tend to break or simply wear and tear. Not only that this is affecting negatively functionality and appearance, but is also messes your budget and increases bill costs. Other reasons for improper work are bad initial service on glazing or bead montage – and the list goes on and on. To get rid of these problems, you might need glass reinstallment (reglazing) or bead replacement.
Speaking of windows – ones with double panes they are a perfect choice for people living nearby busy roads or in areas with a lot of noise outside. They isolate unpleasant sounds better than those with only one pane, so consider switching a glass in frames. Plus, more panes mean better energy-efficiency too – it is much better to change them once and pay less for bills since that. More units do not take more maintenance.
About Window Reglazing and Bead Replacement
To solve a problem with glazing or beads, consider replacement of them. Reglazing is done by removing old panes in frames. Professionals take away the old glass, maintain a frame (sand-papering, applying a new paint layer, replacing seals and so on) and put a new pane in it, then secure it inside and make sure everything is proper.
Ordering Window Reglazing and Bead Replacement
If you do not have enough expertize in window works –better delegate this job to professionals. In case of your mistake while repair you can lose a lot of time and money since eventual process might be even costlier.
And remember:
Beforehand to estimate the cost of their restoration on a turn-key basis – it will definately be cheaper, faster and less truoublesome than installation of new windows.
It is obvious, that by replacing of a whole window takes a lot more time and money – just glass is not that expensive, and it takes no huge work to reinstall an old pane to a new.
Choosing a Company to Do Window Reglazing and Bead Replacement
To choose a good company, look at their:
services;
portfolio;
user feedback;
"About us" text;
prices for work.
Remember that higher price often means more value.
Benefits of Window Reglazing and Bead Replacement in Argo
For those in Wisconsin or Illinois – welcome to Argo window repair and replacement company (we also specialize in some other services with doors and car glass)! People choose our services because of our benefits:
save 50 to 70% in comparison to installing new windows;
make your home more energy-efficient and good-looking;
fix and prevent fogging and other problems with glass with new quality panes.
However, the main benefit is:
10-year seal failure guarantee
Argo's Other Windows Services
We specialize in lots of window services. Check them – you might need some of them already or soon: