Professional Services
Window sash, sill and frame repair
Service
Window sash, sill and frame repair
Insulated windows are necessary for the home's appearance and functionality.
Wide, clean glass units are creating a feeling that your space is light and big. At the same time, windows with broken sashes, frames, and sills affect the home's look in a bad way.
Window sash, sill and frame repair company
Window sash, sill and frame repair Offered in
Wisconsin,

Illinois,

North Carolina,

:
HARDWARE / MECHANISM REPAIR
Window sash, sill and frame repair Near Me
People Questions
How do you repair a sash window?

The window sash will need to be removed. Next step is to take it apart, replace all damaged pieces with brand new ones. Put the sash all together again, install it into the frame and last step to seal all around to protect from any water leakage.

How much does it cost to replace window sash?

The restoration of wooden window sash is a much cheaper investment then full window replacement. To get the cost on this type of repair first you need to have a specialist inspect it closely because price would be different depending on complexity and window brand name.

Can Windows be repaired instead of replaced?

Old and newer types of windows can be repaired. Mostly on all windows are possible to replace glass units, hardware, weather strips. In case with wooden windows they can be refinished and restored if any rotting issues of wood appear.

How much does it cost to replace a window sill?

The cost of repairing window sills would depend on the complexity of work. Our crew will be able to cut brand new sills based on the prototype and your sill will look absolutely the same as the original one. To receive a fixed quote, please give us a call to schedule a free estimate!

What causes window sill rot?

Rot on sills can appear from high sun exposure on a daily basis over years. This is a pretty much common problem. The wooden sills can start to rot as well if they haven't been refinished awhile, because paint or proper staining works here as a protection for wood material.

What kind of wood is used for window sills?

The classic sill material is treated and primed pine. Of course you can choose any other type of wood material that would suit the best for you.

How much does it cost to replace a rotted window frame?

Wooden sash windows can start to rot within time. We believe that repair services would help our customers to save their money to compare with full window replacements. The cost of repair can be given after inspection on site.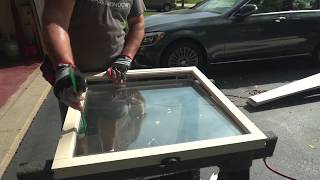 Wood window repair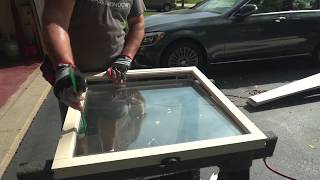 Wood window restoration
Window sash, sill and frame repair
Repairing of those parts of the window means salvaging frame, sliding or opening window part and sill without replacing it. Sash, sill and window frame repair work for house glass systems are relatively hard, so you might think of ordering this service from a company – good idea!
You need to remember to fix problems early before they develop and make the system non-repairable. But doing it in time allows you just to fix a few small problems – fast, easy and not expensive option!
Signs that repair is needed:
cracks of the glass pane;
sill cracks;
sill or frame starts to come out from a wall;
there is an air draft;
window's parts are hard to use;
there is more noise from outside than it was.
Even the hardest deteriorations can be fixed by professionals on a budget-friendly level. To do so – contact an experienced service with loyal brand ideas. For those who live in Wisconsin or Illinois states – states – Argo company is a perfect fit! We can handle all its needed for the frame, sash and window sill repair of the window system – again, it will be financially common. We offer:
window frame repair;
window sash repair;
window sill repair.
About a Window Sash, Sill, and Frame Repair
The repair of the window's parts are not a big deal for those who work in this sphere for years (like Argo's employees) but can be challenging for an average homeowner. Let's see how fixing works are made – in brief description:
A sash – sliding or opening piece of the window – can have problems with a physical opening. This can be repairing by changing and maintaining the joints of a contraption. With cracks – replacing or fixing of a glass bead.
A sill – it can crack too, and takes the same method. But when the sill comes off the wall, it needs to be mounted and glued back.
A frame can break in all ways – spoiled joints, coming off the wall, cracks of the unit. The ways to fix are analogical.
Benefits of a Window Sash, Sill and Frame Repair
Choosing to repair over replacing gives you a lot of benefits:
prevents from a further damage without changing the whole system;
the house becomes beautiful back like it was – in all aspects;
the energy-efficiency takes it's placed again;
all of the listed above happens faster and cheaper than solving the problem by reinstalling the whole frame-still system;
Argo company offers a warranty.
Ordering a Window Sash, Sill and Frame Repair
To solve a window sash, frame and sill problems, that does not require replacing the units, contact a local professional organization. Fair warning: chasing the economy and doing it yourself without enough expertize, experience and tools, you risk making things worse. Failing, you can increase the cost of a final window frame repair – or even make the parts non-repairable.
Remember:
Beforehand to estimate the cost of their restoration on a turn-key basis - it will definately be cheaper, faster and less truoublesome than installation of new windows
Choosing a Company to Do a Window Sash, Sill and Frame Repair
To choose an organization to delegate the window frame repair, think of their:
services;
portfolio;
user feedback;
"About us" text;
price of the work.
Benefits of a Window Sash, Sill and Frame Repair
Argo delivers huge benefits for Illinois and Wisconsin people who order a window frame repair of sash, sill or frame:
50-70% economy compared to the replacement;
more than 70% of insulation level added;
energy-efficiency of the place;
fixing and preventing problems with those units.
And the main one is:
10-year seal failure guarantee
Argo's Other Windows Services
Besides sash, sill and window frame repair you might need the other services we specialize in:
For non-repairable windows – we mount new ones!