Professional Services
Commercial glass replacement
Service
Commercial glass repair & replacement
Why and When to Get Commercial Glass and Window Repair
When running a business, be sure that the branding of your company is on point. Achieving this takes work in a few aspects – aesthetics of your office and other possible buildings included. We, Argo Window Company, know this for a fact.
Commercial glass repair & replacement company
Commercial glass repair & replacement Offered in
Wisconsin,

Illinois,

North Carolina,

:
HARDWARE / MECHANISM REPAIR
Commercial glass repair & replacement Near Me
People Questions
How much does a storefront window cost?

The cost will depend on window size. The best way to have a price for this type of service it is to schedule and estimate so all dimensions can be taken by professional and all detailes can be provided.

How do you install storefront glass?

The process of installation or replacement of glass in storefront windows mighr be different based on structure of the frame.

How much does it cost to replace storefront glass?

Any prices would depend on dimensions and structure of the frame. To have an accurate quote the best way is to schedule estimation, so all details can be provided and measurements taken.

What is the difference between commercial and residential windows?

Resedential window made of thinner glass and with more features they can be vinyl, wooden frames. Commercial window made of thicker glass and moostly have metal frame.

Are commercial Windows cheaper than residential?

The price for commercial windows is mostly more expensive than residential. Commercial window made of thicker and stronger glass which is tempered eather laminated type. This has a direct impact on why it is more expensive.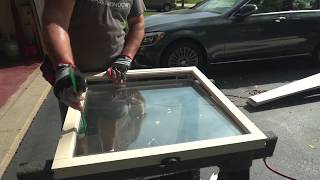 Wood window repair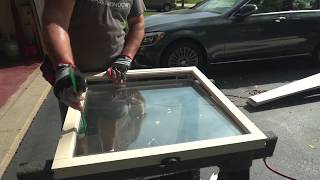 Wood window restoration
Commercial glass repair & replacement
We believe that big windows with clean glass go beyond that just enhancing the looks of the building. They create an impression of clarity and larger space which transitions to people's mind as a message that this company worth at least checking it. Namely – huge glass that plays a role in a showcase, functioning not to just allow a light inside, but to demonstrate people what do you do. And this can be referred not only to goods-selling companies – you can show people the products of your services etc.
Yet windows need maintenance – or they tend to wear and tear, look foggy and shabby. Worse things that can happen – accident breakages of different parts of windows for different reasons – misusing and deterioration just to name a few. It makes glass to crack, frame and sill to come out of the wall – pretty bad aesthetics for a commercial building, right? All of this points us to a solution – commercial glass and window repair.
Benefits of Commercial Glass and Window Repair
We – Argo – can name you several good reasons for getting a commercial glass and window repair. Look for ways to improve your company success:
Low energy bills sums. Non-maintained windows can get foggy – this raises the expenses of artificial lightning, and why would you use it more if there is plenty of sunlight outside? Plus, cracked or windows with broken sealing make you pay more for heating to overcome drafts, and two-unit panes with a lot of moisture in between raising the conditioner electricity check.
Improving employee comfort. In top floor-offices, there is a strong need for fresh air – it improves staff moral conditions because living or working high above the ground is linked with bigger chances of getting depression. Light and working windows can increase productivity in your company.
Better visual aesthetics. When you have a poor glass situation, your commercial property starts looking unpleasing, because windows are eyes of a building.
Security increase. Tight glass can protect you from a lot of things happening outside starting with projectiles and excessive warmth and finishing with burglars' impact.
Speaking of window repair work– remember:
Beforehand to estimate the cost of their restoration on a turn-key basis - it will definately be cheaper, faster and less truoublesome than installation of new windows.
Ordering Commercial Glass and Window Repair
To solve pretty much any window situation, order a professional company service. Be sure to check wisely!
Choosing Commercial Glass and Window Repair Company
To choose a company that suits your needs, look at their prices, location, services, portfolio, client feedback, expertise and experience levels. People of Wisconsin and Illinois – visit us, Argo! Our main benefit besides those described above is:
10-year seal failure guarantee
Argo's Other Windows Services
Argo's expertize with windows is broad – we would like to offer you other services: