Professional Services
Peeling / flaking or cracked paint on windows
Service
Peeling / flaking or cracked paint on windows
Why and When to Get Peeling or Flaking of Cracked Paint on Windows
Windows are a face of your home or workplace. They are a necessary part of building's appearance and functionality. Clean, big glass panes can make a size from outside and a space from inside bigger.
Peeling / flaking or cracked paint on windows company
Peeling / flaking or cracked paint on windows Offered in
Wisconsin,

Illinois,

North Carolina,

:
HARDWARE / MECHANISM REPAIR
Peeling / flaking or cracked paint on windows Near Me
People Questions
What to do if paint is peeling?

The peeling paint can be caused from moisture or poorly sealed windows. By using pull scraper remove all loose paint, then surface must be sanded smooth, clean off the appeared dust. The final step is to prime it and paint with matching color, 2 coats prefered.

Why is peeling paint bad?

The paint can start to peel based on bad, unprofesional job or over years under exposure to weather or many other factors. Peeling paint on wooden windows can lead to root that can damage the window sashes, sills, trims.

Why does paint crack around windows?

There are a lot of reasons that can cause paint to crack around windows. The most common are cheap paint, the movement of construction, exposure to sun rays for many years, no primer underneath it and many others.

Why does paint flake off wood?

The paint might peel off a surface because it didn't fully stick to the surface as supposed to. Before windows can be painted they must be cleaned and prepared ahead.

How do you prepare window frames for painting?

"Before you get started it is highly recommended to check for any mold to be on windows, if yes they will have to be cleaned with untifungidical wash. Next step is to remove all hardware which are locks, handles, hinges. Then you can remove flaking paint as much as possible and after by using sanding paper sand the window carefully. Use the vacuum to remove any dust. After this the window can be primed and painted. "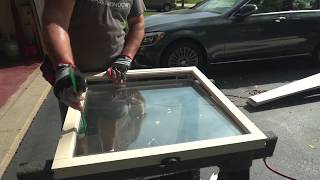 Wood window repair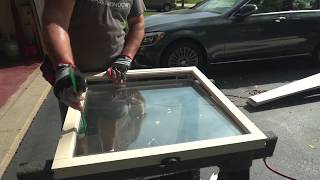 Wood window restoration
Peeling / flaking or cracked paint on windows
And they definitely make an interior brighter with a natural light from the sun. Yet window frames with cracked paint – a problem that seems a small one – can demonstrate your relationships with a building – people might think that you don't care of it enough. Even if you just don't know what to do.
A reason for cracked paint – most of the times – is moisture. Even if it's not situated between glass panes, it can be a huge problem for both functionality and appearance of window frames. It happens like this: water from a sill eventually gets under a layer of paint. It evaporates under a film and causes a cracking because of pressure. By moisture, we mean either a condensate from inside of a building or rain and snow effect from outside.
Paint can also peel from windows because of poor sealing of frames – ones that were not caulked good enough. A sealing can break due to wearing and tearing – that can allow water to get inside a coating from inside of glass units (if there are multiple).
If windows are not maintained how they are meant to and you haven't prevented a problem, you might get this kind of a problem. With that, you definitely need peeling or flaking of cracked paint – not just to bring back an appearance, but to save a functionality of window frames and warn a problem from progressing.
There are few signs that you might need peeling or flaking of cracked paint:
you started experiencing drafts in cold times and stuffiness when it's warm;
bigger bill costs;
visible problems with frame coating.
About Peeling or Flaking of Cracked Paint on Windows
To get rid of cracked paint, better get help from professionals – doing it by yourself without enough expertise can lead to mistakes. It increases work cost in such companies later.
Benefits of Peeling or Flaking of Cracked Paint on Windows
If a work is not being done in time, this can lead to several unpleasant situations. Namely, window frames losing their isolation function because of current's problem evaluation.
Ordering Peeling or Flaking of Cracked Paint on Windows
As we mentioned above, it's always better to get a repair job from someone with proper skills, knowledge, and tools. And if you consider replacement of a whole system – remember:
Beforehand to estimate the cost of their restoration on a turn-key basis - it will definitely be cheaper, faster and less troublesome than the installation of new windows.
Choosing a Company to Do Peeling or Flaking of Cracked Paint on Windows
To choose a good company, look at their:
services;
portfolio;
user feedback;
"About Us" text;
price of work.
High price often means more value.
Benefits of Peeling or Flaking of Cracked Paint on Windows in Argo
Our clients choose us for a variety of reasons:
quality of work;
reasonable pricing;
high expertise in glass units' repair.
However, our main benefit is that we offer
10-year seal failure guarantee
We love to help people of Wisconsin and Illinois!
Argo's Other Windows Services
Peeling or flaking of cracked paint on windows is not the only thing we specialize in:
We take care of your sashes, frames, and window-sills, and repair them;
We repair glass cracks;
For not-repairable systems – we can install new ones!